Kavella offers gallon sizes so you can start a refill program in your salon, spa or boutique!
Reduce plastic waste.
Make money.
Build client loyalty.


Gallons offered for our Clarifying Shampoo,
Moisturizing Shampoo and Conditioner,
Balanced Shampoo and Conditioner,
Volumizing Shampoo and Conditioner,
Defining Cream and Recovery Lotion!
We also have no minimum order quantities, making us the smartest choice for salon suites and indie stylists.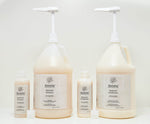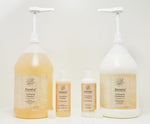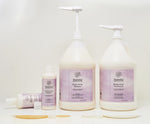 Kavella's gallon sizes will refill your client's retail bottles over TEN TIMES for shampoos and conditioners, and 16 times for our Defining Cream, saving a lot of plastic from ending up in recycling plants, waiting to eventually be processed and reused.
For boutiques and other non-salon retailer inquiries, please contact us at hello@kavella.com!